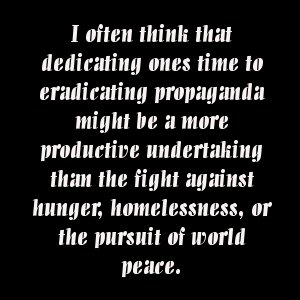 A few weeks ago I took (public) umbrage with the faux-fact based facebook post: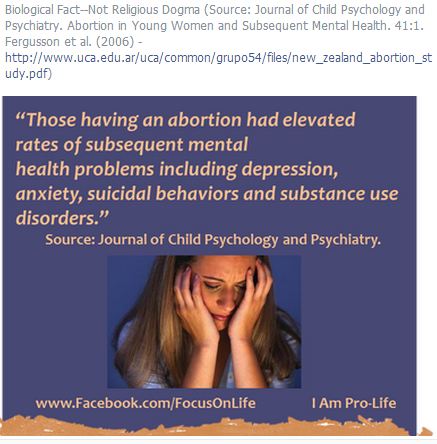 My issue with it was (and remains) the distorted use of facts taken out of context (not to mention the poor methodology and small sample size of the actual study cited). Rearing it's face again, the over simplification and reduction to a few choice, targeted words of a complex topic so that is is digestible and easy to repeat for the ignorant masses.
Note: I am not saying everyone who read or repeated this post is ignorant… I am simply talking about the objectives of its creators
If that notions offends you, I'm sorry… but unless you read the entire study (I did, for the record) you really shouldn't be quoting it… let alone passing on someone else's quote from it. Bottom line, you don't understand it and shouldn't be passing it off as fact (or anything else for that matter).
But this is just background for what I want to talk about today. More of the same to be sure, but on this one I can actually chime in with my opinion. You see, on most issues, like abortion, because I work for a non-partisan office, I cannot share my views (which has made for some interesting reading of some of the comments I have received… as people have assumed quite incorrectly what side of the fence I am on regarding some issues and railed against "people like me" when in fact "people like me" are "people like them" since we share the same view).
Alas, once again, I digress…
Today I saw this juicy tidbit on Facebook (take note of the highlighted text and the circled link in the image):
As I am prone to do before commenting, sharing, or even liking something on Facebook, I clicked on the available link (the one circled in the image above) to read the background and detailed information about the post. So, imagine my surprise when I read, less than half way through the article, the following:
It is a very natural process and scientists say it should not be tied directly to the very real climate changes that are also affecting this part of the West Antarctic Ice Sheet.
You read that right… in the article referenced by the post stating "the time for half measures is over — we need climate action now" we are told in no uncertain terms that what we are reading about is "very natural" and that it shouldn't be linked to climate changes.
Seriously, people???!?!??!?!??!?!?
This is particularly galling to me because I happen to believe in "Global Warming" and happen to agree with the folks that think we are creating our own extinction event on carbon emission at a time. And I don't even care (…gasp…) how it effect profits (profits are of little concern to a uninhabited world, IMO). In other words… I completely agree with the message, and want to be able to re-post this. But I can't, because it is rubbish (with regard to global warming… it's still interesting from a purely scientific standpoint).
Simple minds are easily swayed, and I realize the path to political success is paved with mass ideological conscription. However, I can't help feeling that with every Facebook post and Pinterest pin (of this ilk), we are chipping away our national intelligence quotient. And I'm not sure that's a price worth paying to acquire a vote, or even an election, here and there. Democracy (representative or not) is based on an informed electorate casting informed responsible votes. When was the last time we could say that was the case for the majority of our voters? When was the last time we were even trending in that direction?
I don't think the propaganda machines are going to stop any time soon (there is too much money and power to be accumulated), so it's up to us, the "consumers" of this drivel to do our part. Read the underlying stories, research the so called facts, and most important… call people out on false or misleading statements (even, as is the case with the ice berg above) it runs contrary to your point of view.
"Eternal vigilance is the price of liberty." – Thomas Jefferson