I am in New Orleans this week, this is the first of a series of blogs inspired by my surroundings.
Every time I try to free my mind of the history of this country, reality is thrust back into my face.  Every time someone tells me, while arguing about perpetuating negative stereotypes, that I should lighten up… and I start to think maybe I should… reality is thrust back into my face.  Every time I try to convince myself that the perception of my country being a beacon of truth justice and most of all freedom is a truth and not a reality… you know the rest.
The war of 1812 started (primarily) because of outrage over the conscription of US sailors into the British navy, and British restraints on free trade.  The war lasted over two years and is, in some circles, considered the final step in our total independence from Britain.  It cost the lives of over 2000 Americans (4500 more if you count those killed by disease).
The last major battle of this war was the Battle of New Orleans.  The battle actually took place two weeks after the war was over, but a full month before anyone in these parts knew this to be the case (no internet, I guess).
Perhaps you can imagine my surprise when I saw this today while walking through the French Quarter: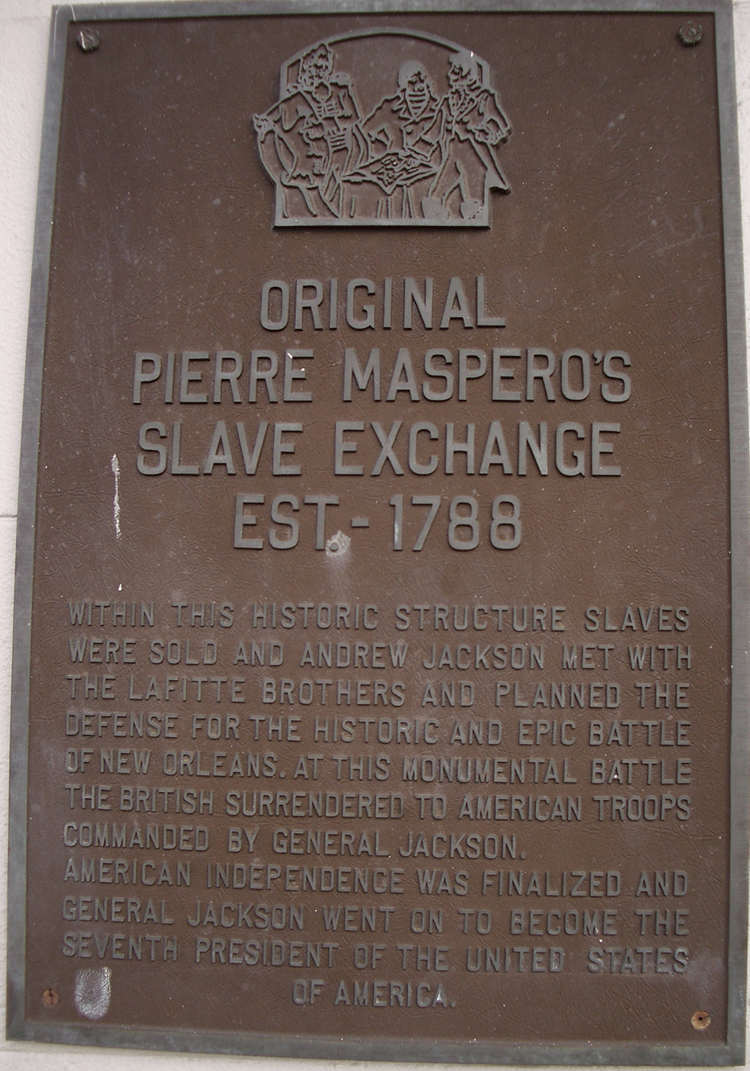 The reconciliation took a minute for me, and, honestly, I still do not have any kind of positive resolution.  The final major, and if this is taken at face value, conclusive, battle of the war of 1812. A war that was, at least in part, being waged to secure the freedom of US citizens from their forced servitude on British ships of war… was planned at a slave exchange.
It is both common and convenient to dismiss slavery and excuse those who took part in the practice because it was "normal" back then.  Not going so far as to say it was okay, but to say something along the lines of "they were raised that way, if you lived in that time you would probably share that view" etc.
I must (dis)respectfully back away from (read: express my disgust with) that position.  As a country, we were outraged by our own citizens being forced into servitude to the point that we went to war over it.  I refuse to believe that a group of intelligent, educated men could sit around in a SLAVE EXCHANGE to discuss battle plans for a war designed to free their brethren, and not see the irony of their actions.
I am left wondering how many people who walk past this sign fail to see the hypocracy inherent in it.  How many fail to see, by logical extension, the same irony in place with today's foreign policies on the environment, oil, nuclear proliferation, etc. At some point the adolescent approach of "taking what we want, because we want it, and to hell with the moral implications of our actions" has got to stop, right?
How long will we invade countries because THEIR natural resources are valuable to US? And… how long can we keep pretending we do not know it is wrong? Perhaps we can get together on one of the fields of battle from the crusades to discuss our next course of action in the middle east… oh wait… we don't need to do that, we can just get together in Israel again…
This is repeating history folks. This is "how it was in the beginning", and how it "is now"… however, we still get to determine how it "ever shall be."  What does the future of your world look like?