It's New Years Eve and, as is the case some years, I have spent a little time reflecting on the year, my life, the state of the world I live in and my impact upon it. I don't always do this… some years I'm very "New Years Snobbish" and convince myself that this type of reflection should be a daily occurrence and not something reserved for the end/beginning of the year. Those years I consider New Years Resolutions (or even "deep" personal introspection) to be anything from passionate pretense to pandering-preachy-(self)promotion (or at least an excuse for shameless alliteration

). This is not one of those years (next year – or even tomorrow – I will undoubtedly hate myself for writing this).
I'll start by sharing my basic frame of mind going into the day (and I'll do it in classic egocentric form, by quoting myself)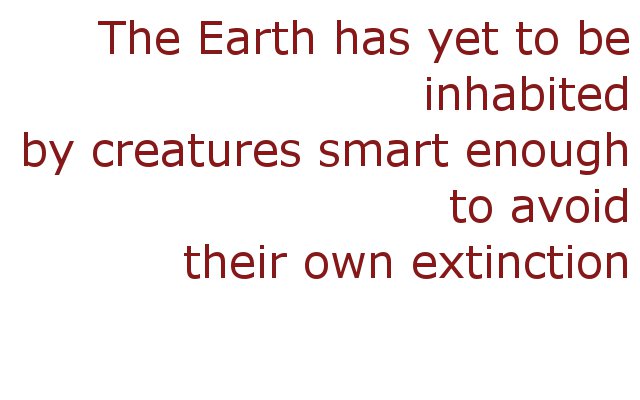 I don't currently recall when or why I said that (other than it was earlier this year) but I do recall how true it rang when I first said it, and I also recognize how much it resonates with me in these last few hours of 2013.
This should not be confused as some fire and brimstone sermon about how we are hurdling toward Armageddon (even if, perhaps, we are). In fact, as difficult as this may be to digest based on that quote, I am somewhat optimistic right now. I'm hopeful because of this other little narcissistic jewel I'm going to drop on you (once again, me quoting me):

See, I told you, I'm little Mary sunshine!
Seriously though, here's the thing. While I struggle, on a day to day basis, to find much moral, intellectual, or even self-sustaining value in our society, I do continue to be reminded and confronted by acts of charity, compassion, and kindness; and in these things, in our humanity, I see hope for our species. It makes me think that, perhaps sometime soon, before it is truly too late we will begin to act – as a society – as though we are a community; a mesh network of interconnected (and interdependent) people, rather than an ever growing collection of individuals related by proximity… and little else.
To me, this would be the big turning point in the history of mankind (and the one thing that might enable us to overcome the threat of extinction). The ability to see ourselves as being a part of the same team, hoping to achieve the same goals, rather than adversaries competing for the same commodities.
So that's my goal, or, if you prefer, resolution: To seek out, focus upon, glorify, and empower humanity; to find or build synergies with both my best friends and "worst enemies" for the sake of a common goal we may or may not as yet even fully recognize; and to do my part in fulfilling the potential and promise at the foundation of each and every New Years wish/dream/resolution ever made… to live happily ever after…