I'm still (quite) bothered by the moniker of "mother of the year" attributed to the woman who used violence to express her disapproval of her son participating in a violent protest. Not necessarily bothered by her, mind you… that's her family and her business, I've not walked a foot in her shoes, let alone a mile. My issue is with the media and their inability to see the problem with sending that message.
There are so many points of failure there. What would the conversation be if it had been his father rather than his mother beating him up over his protesting actions? Play that one out in your mind. I suspect that at best it would be ignored, alternately it might appear as one of many clips of "black on black violence" running rampant on the streets, further evidence of what is wrong with "them." Two parents, same action, yet completely different responses… why? Are we celebrating her inability to be violently effective?
What of the mothers who children stayed home and read, or did homework, or went down the next day and cleaned up after the looters and vandals. If this woman was mother of the year… what are they? How about the mothers of the peaceful protesters that never turned to looting or violence, but exercised their right (some would say responsibility) as citizens to assemble. What did the parents of these men – who stood with the police, against the violence and criminal activities going on around them – do wrong to be considered also-rans for the coveted media "mother of the year" award?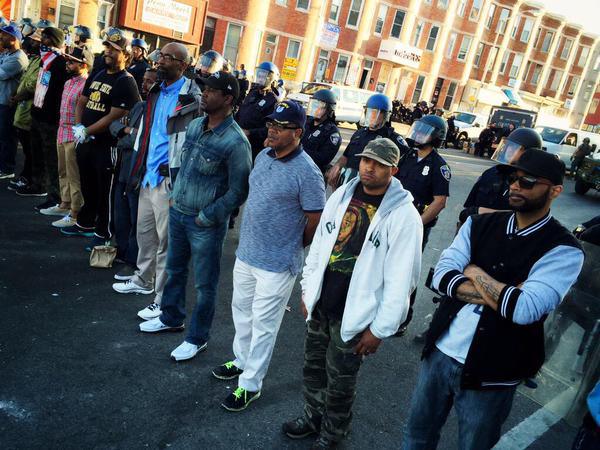 I've wanted to physically interact with my children before… never done it, but I've "wanted to." I've been frustrated by my interactions with them or my inability to make them understand something to the point that I felt the urge to "knock some sense into them." So I get where Ms Graham was coming from, she did what many parents would want to do in that situation. I just think that sometimes there is a difference between doing what you want to do vs. what you should do, and far too often we seem to validate and even elevate folks for doing the former as opposed to the latter… probably because we can relate to their state of mind while they are doing it.
Maybe part of the problem we are having is that people doing the right thing, regularly and consistently, just isn't newsworthy to us. Maybe we just aren't inspired by lives well lived. Absent drama, those lives don't feed into our more base desires or satisfy our need for some sort of action. When I'm angry or upset about looting, it's easy for me to get motivated by a woman taking her rioting son out behind the metaphorical woodshed… it's exactly what I want to do to her son (and all the other son's of all the other mothers out there hurting people and damaging property).
But… that doesn't make it right, it doesn't make it constructive, and I don't think it makes you mother of the year.