I love it when I'm wrong, it's one of my favorite phrases… and today… I was wrong. In being so, I also learned something about myself, reflection, and that (sometimes lost) art my parents taught me of thinking before you speak.
A few days ago EL James (author of 50 Shades of Grey) decided to hold a Twitter Q&A… this was a disaster. As a non-fan of the movie (I admit I didn't read much the book (I didn't get far before the writing turned me off)… but have read lots about it if that counts for anything), I thought the Twitter roast was hilarious and started sharing the "good times" with some friends (read: sharing the best Twitter slams for us to mutually titter and cackle about). That's what I was doing when I came across this one:

It was (and if I'm being honest *is*) hilarious, and I was soon zipping it around to friends. But then, I read a bit more of @avestal's Twitter feed (which you should check out… he's funny and has his head on right) and came upon this (it's a feed so you have to read it from the bottom up… I'm too lazy to have reshuffled it for you… sorry):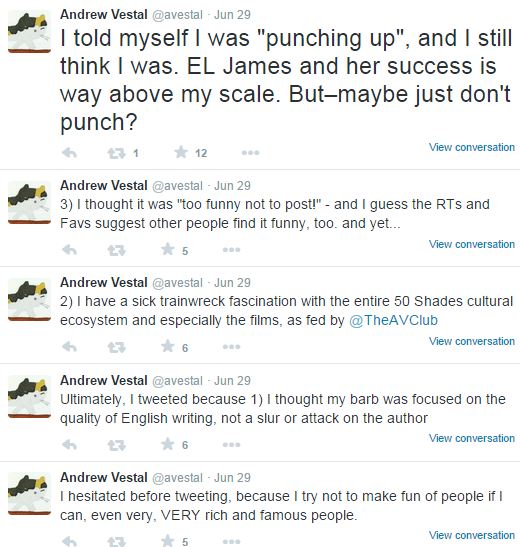 And that's when I had my personal "oh shit" moment. You see, Andrew (sorry if that is too personal, Andrew, we don't really know each other after all) is dead on with his assessment of "But–maybe don't punch." I constantly preach about positivity and treating others with respect… and here I was glorifying the very public flogging of someone who had put herself out there, taken a chance and written her book. I'm not saying for a second my opinion of the movie (or book, what few words of it I read) has changed… but there is no need for me to be personally bashing the woman who wrote it (or glorifying anyone else for doing it).
Mr. Vestal acquitted himself far better than I did in this whole thing and I can't undo the sharing I've already done; however, I can say I learned from (and hopefully will be better because of) it and for that I'm thankful.