As many of you have been around for a while know, I listen – almost exclusively – to NPR while driving my car. Today, while picking up my son and subsequently heading to the store I learned more about Tamerlan Tsarnaev (26) and Dzhokar Tsarnaev (19) than I have learned about Washington, Lincoln, and Jefferson combined since I graduated from high school.
I learned about their college party years, and how the degenerated. I learned about their sports careers, boxing and wrestling mostly. I got to hear about their twitter accounts and the types of things they posted in the past, from this I know they were Guns N' Roses fans. I've heard about their homeland, and its attempted rebellions and subsequent struggles. I heard from their mother, their uncle and various friends as well.
In short, I know all about the two men who tried to kill as many innocent bystanders as they could last Monday. I know more about them than I do some of my cousins (which is more an indictment upon me than anyone or anything else).
What I don't know anything – or at least very little – about; however, are any of the victims, first responders, or hospital staff that worked on the victims. I don't know anything about the family and friends who sat and waited for hours during surgeries and other procedures (for all I know some are still standing vigil over their loved ones).
I understand why we don't hear much about the victims, they last thing they need are their lives rocked by media right after being victimized in a senseless act of violence. But why don't we make a bigger deal about the people that help, why don't we have hour upon hour of coverage on the positive side of humanity?
I don't care to glorify, or even learn about two man who's lives went so horribly wrong that they turned to an act of terror as a means of self expression. What I want to know more about are people that I can look up to… people who act heroically, or at least selflessly.
While listening to the coverage driving home today, my son said to me "why do people want to hear or see this stuff… it's just depressing." And they way it is typically portrayed I can't really argue with him.
What said to him, though, was that while it is true that these situations can be very depressing, they can also show you the beauty in people as well. True, there were two boys that demonstrated the darker side of humanity, but there were hundreds of people who showed compassion, caring and courage as well.
There is a Mr Rogers quote that has been making the rounds recently. Not just this week, but in the aftermath of other tragedies as well. It it popular to the point that I am hesitant to use it. However, I think it eloquently articulates what I was trying to say to my son: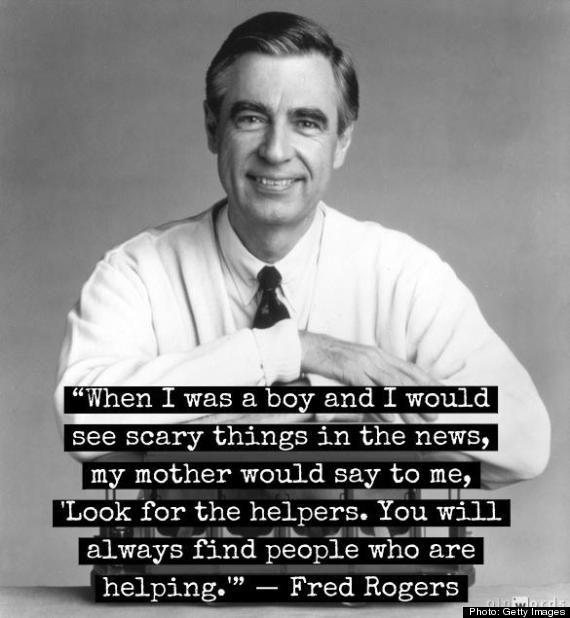 As with most things in life, what you get out of something is often very much hinged on how you view it and what perspective you use to interpret it. There is a good positive message in the reporting of these stories. I just wish it was as easy to find as a slideshow of Mr. Tsarnaev's golden gloves boxing history.