There's probably some danger in titling a post "For better or for worse" and then starting it off with "I was talking to my wife this morning" … but that's exactly what I'm about to do…
I was talking to my wife this morning about Facebook, specifically why she doesn't really get all that into it… and doesn't really get the rush that leads people to get "addicted" (words that came from an ad we heard while driving). She spoke of political propaganda, people spreading things they had heard without verifying the (in many cases lack of) facts, and of how folks manipulated situations toward their own ends (etc. etc. etc.). I can't say I disagree with anything she said (although this doesn't stop me from being a moderate Facebook user).
So then we got home, and I pored a bowl of cereal and headed to my computer to browse the internet while eating (kind of like reading the paper over breakfast but woefully less cool). Over time I drifted over to facebook, and the first thing I saw was this picture: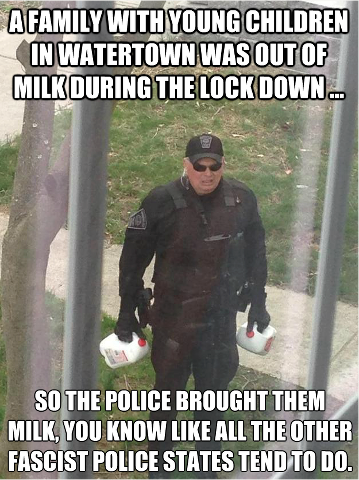 To which I responded: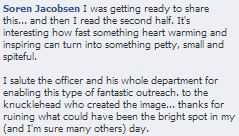 I'm not really sure what makes me sadder, the fact that someone intentionally co-opted this policeman's good dead for a malicious and small attack, or the fact that over 60,000 people have liked it, over 18,000 have shared it and lord knows how many people have commented upon it.
I take solace in my belief that many (if not the majority) of the people who have propagated this are doing so based on the picture itself, and perhaps the first few lines. That they have not seen, have chosen to ignore, or have dismissed the last line as trivial.
Nonetheless, it is an embarrassing and candid look at the downside of social media in general… and a strong argument for not over investing in such. If this was my primary exposure to Facebook (et. al.)… I'm certain I'd have the same view as my wife; because, this certainly qualifies as "worse."
ps – this is a particularly difficult post, and this image struck me harder than it normally would have – I am sure – on the heals of what I wrote on Friday about the bombing in Boston. I was actively looking for the good in this story… thought I had found (some of) it – which, in reality I did, of course – only to have my optimism dashed by some simpletons idea of wit.