Actually, stupidity may not be worse than porn, but since I was going to write about some of the evils of porn today and that was usurped by this stupidity, I guess, at least for today, I think that is the case.
Rather than attempt to restate ABC's news report better than them, I'm just going to include it right here… as they presented it: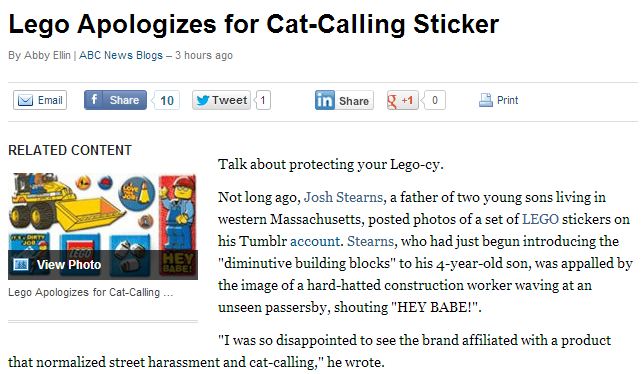 First of all, kudos to Josh for being dialed in enough to recognize street-harassment when he see's it (even from a child's plaything) and moreover for doing something about it. I'd be happy if most people simply recognized this type of sexualization/commodification, given that so many of us spend our days in some blissful oblivion about being surrounded by it.
After the above, the article goes on to point out how he went back and forth with Lego, and they eventually apologized and have taken steps to remove the product from the market and (more importantly) ensure nothing like it will make its way to store shelves again. Should be the happy(ish) end of the story, right???
Nope…
Here is a clip from the top of the comments section on that story: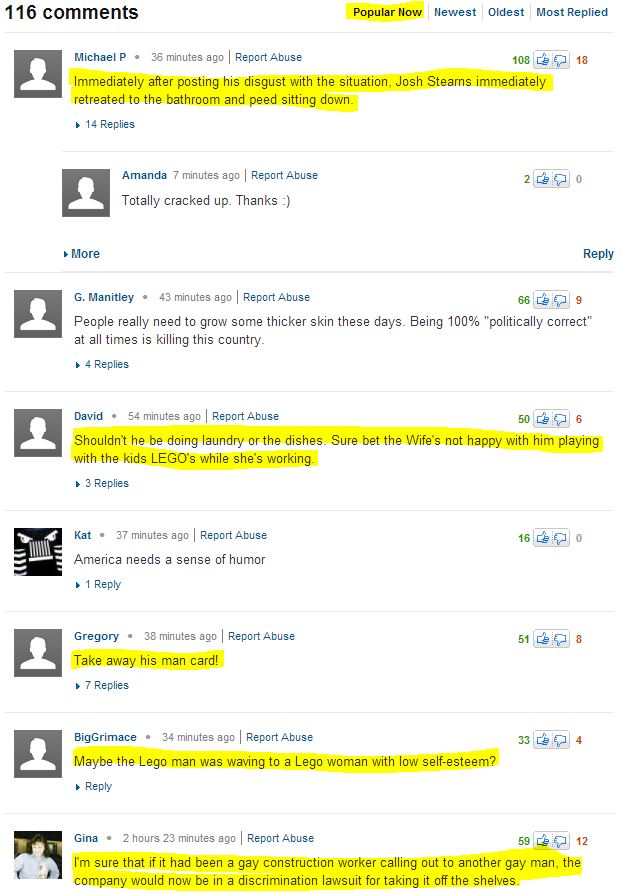 Take a moment to note that these are the "Popular now" comments (highlighted in yellow at the top of the image). Not the most recent, not the most distasteful, not the most replied to… no, the most popular. I can only screen capture so many, but let me assure you it goes on (the next one down reads as follows "Wow. dude i think you might want to look around cause I am pretty sure your balls fell off somewhere").
So, now we have compounded our sexualization of women with gross gender stereotyping; and this, right here, is why I harp on and on about stereotyping. This is the insidious nature of the beast. Would-be defenders of decency are shamed by idiotic gender bias into silence (or at least that is the attempt). "Take his man card away," "peed sitting down," and "shouldn't he be doing laundry or the dishes" are all comments meant to demean Josh for his stance. Why are they "insulting" because they all mean you are more like a woman than a man, and what could be worse than that?
I have confidence in Josh… I believe his response to that question ("what could be worse than that?") would be something like "if being a man means berating other people for having the courage to stand up for what's right, I'm pretty sure I'd rather be more like a woman." He might also go on to say "however, I don't think being decent is a hallmark of either sex; rather, I think it is a defining trait of someone with character and integrity."
The problem is, there are a lot more not-Josh's than Josh's out there. People – most of them – are cowed by shame, confrontation, lack of approval and any number of other disabling human interactions. Life can be challenging enough without having insults thrown your way or being treated like a social pariah (I'm looking at you "Kat" and your "American needs a sense of humor" comment). You see, while I didn't choose to highlight them in the image above, "Kat's" comment along with "G. Manitley's" "thicker skin" observation they are just as damaging, perhaps even worse at times.
While many reasonable people are capable of looking at the "peed sitting down" comment and dismissing it as being rude, bigoted, or asinine far fewer are able to take a strong stance against someone saying "have a sense of humor." No one wants to be the drag, the party pooper, or boring. As such this little "helper" comment gives legs to the more egregious ones, it chips away at the defenses of good people, and it emboldens (and as such empowers) the "Michael P's" of the world.
A good man (Josh) did a good thing, and has since been pilloried for it. If that is not the poster child for stupidity, I don't know what is. The result of that stupidity is a foundational furtherance of institutionalized bigotry. So, yeah, I guess I do think stupidity is worse than porn… in fact – as what I believe to be the true root of all evil – it just might be worse than pretty much everything…