I'll start with a disalaimer, I did not start following the Trayvon Martin case closely until this weekend… so I am absolutely a johnny-come-lately on this issue. However, that does not mean I do not have things to share. The very first thing I saw this morning (on my computer) was this: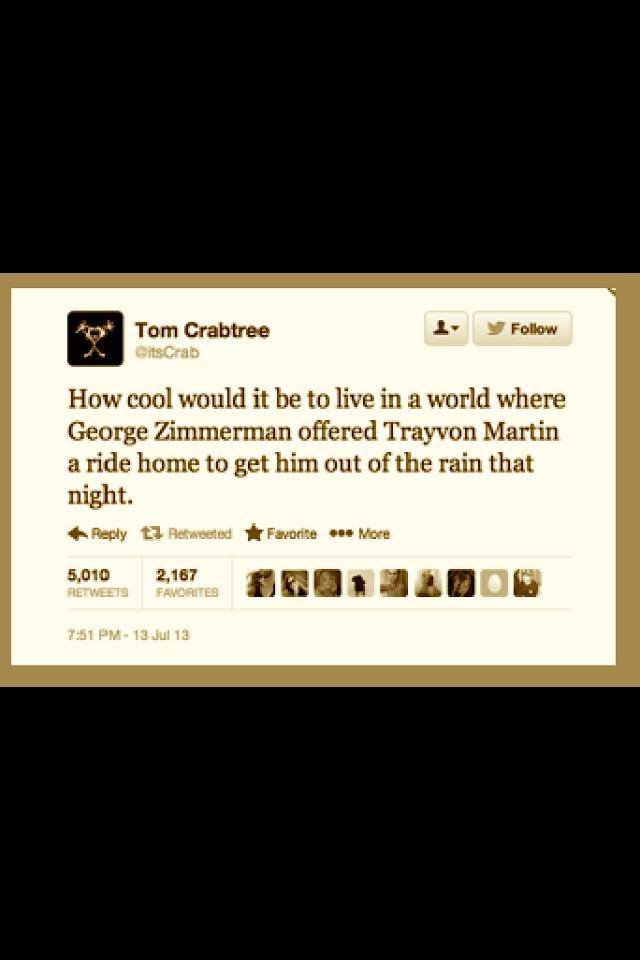 And with that, for the first time since February 26th of last year I felt good about something related to this case. Far to often we focus on who did what wrong and how should we hold them accountable for it. Few and far between are the conversations about what could have been done better and how can we learn to conduct ourselves better in the future as a result of this instance.
Even when we do see the latter, it is usually in the form of "slut-shaming" (perhaps we could call it "slum-shaming" in the case of a hooded teen walking alone on the streets at night?). You know the routine, "what did you expect to have happen wearing those clothes?" "I wouldn't let my son walk around in the dead of night looking all gangster and stuff" etc. etc. etc.; ignoring the fact that the victim, by definition, does not commit the crime.
At this point I'm going to take a moment to point out that I do not know what happened that night in Florida. Based on the small sample of evidence I have heard from the trial and my limited knowledge of Florida law, I probably would have had a tough time convicting Zimmerman on the charges brought before the court. However, that should not imply in any way that I consider him innocent. I do not "stand with" Florida's "Stand your ground" laws. For a more detailed look at my views written by someone other than me, check out this piece. His opinions mirror mine to the point that I'm willing to just let them speak for me.
Getting back to my point, what was so nice about the tweet above (if we were to look at it in specific reference to this situation) was that it focused on what could be done different not by the kid in the hoodie, but by the guy who shot him. Even better though, is that it can be applied to any situation where someone in Zimmerman's shoes encounters someone in Martin's. Further, and this is the best part, it is a blueprint for life even if you aren't a volunteer neighborhood watchman on patroll, or even if you don't run into a kid in a hoodie who you feel might be a touch menacing.
I love this because it says you can be a good person anytime you like. You (probably) do it all the time when you hold open a door for someone else or let them scootch in front of you in traffic when they don't even have the right of way (what madness is this!!!). This simply encourages is raising the bar a little and doing it when it really matters.
I love this because whether you think George Zimmerman killed Trayvon Martin in cold blood, got caught up in the moment and foolishly took his life in a bit of a rage, or truly was justifiably fearful of his life and acted in self-defense… this advice still works and is a blueprint that would have (most likely) prevented the entire event from occurring.
I love this because, well, I want to live in a world where people hear a result like the Trayvon Martin verdict and respond with "how cool would it have been if he had offered him a ride instead." Today, I didn't have to pretend or wish… it was the first thing I saw (on my computer) when I woke up. And while that won't bring Martin back or allow Zimmerman to undo his actions, it might just give some other people who have not faced their Feburary 26th yet a little perspective when they do… perspective which might save the life (or lives) of the next Trayvon Martin(s).