Recently I began playing around with Twitter. For a semi-detailed explanation of what Twitter is, see the last paragraph of this entry, for the purposes of this article, it can be considered an online community of people who communicate in very short bursts, in essence one sentence at a time. My foray into Twitter started as a research project for work, specifically investigating the practicality of using twitter as part of constituent communications, especially during the election season.
When you see a posting from someone on Twitter, you see their avatar (their profile image) and the text of their post, this is an example of a couple typical posts on twitter.

You can see from this that there is some importance to the avatar. What I learned after some time studying the "Public Timeline", however, was that there is more to an avatar than first meets the eye. People often change their avatars to indicate mood, activity, or to affiliate themselves with certain causes. Some of this avatar switching is a social or group activity.
I have no idea how many "inside avatars" (like an inside joke, but an avatar) there are out there, but I did run across an interesting confluence that I think is well worth mentioning.
The first one of these "clubs" was just for fun. It was a small group of friends that decided to lighten things up on Fridays by displaying a little more skin than usual (full history here). Nothing verging on porn or anything, just a little playful fun. This little club, as you might imagine, caught on and over time became what is known as "stripper Friday", although, again, it is not nearly as risque as the name might imply.
The other "club" is more substantive. Susan Reynolds found out that she had breast cancer the only way one can come by that type of information, the hard way. Her description (from her blog "Boobs on ice") of the experience follows:
When I discovered a very thick area in my breast I called the doctor. The next day I was in her office. A half hour after that I was in the diagnostic radiologist's.
A full afternoon and multiple stab wounds later we had a variety of samples of malignant tentacles of tissue that were on their way to the lab.
I was in a little pain – it would increase as the local anesthetic wore off – but left his office with a soft cold pack in my bra.
To keep bleeding down & relieve pain I'd need to keep things cool. Traditional ice packs are hard and heavy. As much as I try to be a good sport I'm not into having a brick sitting on my chest.
Enter a bag of frozen peas.
From this experience was born the "peavatar" as well as the Frozen Pea Fund (where you should go, and make a donation… like now, go ahead, I'll wait… you back, cool, here we go again…). The peavatar is an avatar garnished with a helping of peas. If you go to the frozen pea fund web site you can see several of these avatars blown up in a constantly changing box off to the right (while you are checking it out, if you did not donate above… do so now!).

Where this little journey really gets fun is the intersection between stripper Friday and peavatar's. The two groups have mingled in a few cases resulting in avatars like this one…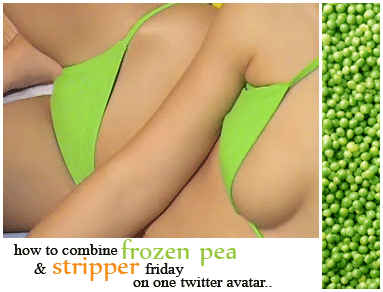 Behold, the power of the internet. Activists, strippers, and peas, oh my!!
P.S. if you have not already done so… please go donate a couple of bags of peas… its for a good cause and its cute and kitschy as well!
*************************
What is Twitter, anyway: Twitter is a micro-bloging technology that limits users "blog" entries to 140 characters while simultaneously breaking them free of the shackles of internet dependance. Simply put, Twitter bloggers are able to submit their entries from any location with or without a computer by simply sending a text message to the service (micro-blogs can also be submitter via the Twitter web page or a variety of third party applications). Users can also follow other peoples blogs (ala RSS feeds) via their cell phones by receiving text message notifications whenever a friend updates. In practice, Twitter is more conversational, sort of like mini-email. So, in a nut shell, what you have is two of the major workhorses of web 2.0, Blogging and RSS, combined with the two primary communications stalwarts of the "old" internet, chat and email, available on both your computer and your cell phone, adding new definition to the term "cross platform" (at least thats how I spun it at work, to justify all the time I have spent playing around with it). Twitter is not the only service in this space, but that is not the point of this blog entry, perhaps another day…