I'm not one to condone violence or destruction of other people's property, and I find the events in Baltimore to be truly tragic. But in scanning my Facebook timeline this morning I have to say I was equally disgusted with several of my "friends." The level of hypocrisy emanating from those heaping vitriol towards protesters, rioters, and looters by those whose taste for vengeance is well documented on their own timelines speaks to a societal cognitive dissonance that I cannot see ending in anything but violence.
I've seen this image of a mother addressing her son's protesting activities three times, each with a completely different take on the scene. Coverage (that I have seen) has ranged from "Mother of the year" to "Woman berates and dehumanizes son." Think about that, same picture, same story… completely different representations.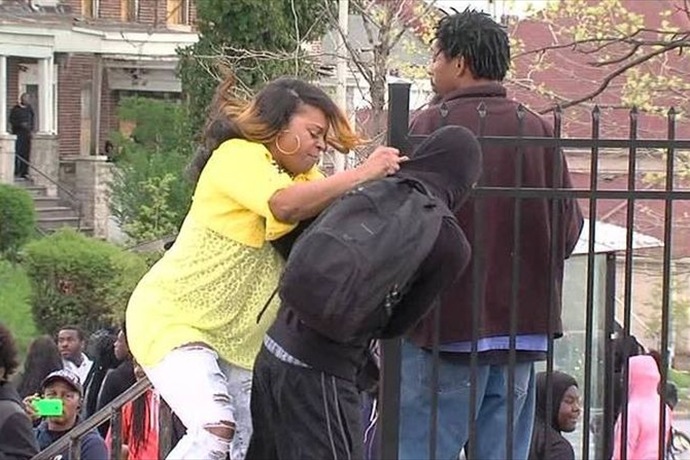 That we make of the news what we want, is not "new news;" however, the inevitability of outcome, when we do so, always seems to be revelatory. I've read, this morning, about how the rioters are doing so "because they want to, and finally have an excuse." I've also read that they are desperate people left feeling as though they have no choice, in the words of none other than Martin Luther King Jr "riot is the language of the unheard." (Note: fuller context of that quote is below, and is very much worth the read for a better understanding of the message he was sending and the culture and climate he faced; which is not entirely different than that which many in Baltimore and across this nation feel they find themselves in today. I'm not going to try to say those people are right, or they are wrong, I'm just acknowledging their perspective, because without it there is no hope of understanding or addressing this situation).
One definition of cognitive dissonance is this: "In psychology, cognitive dissonance is the mental stress or discomfort experienced by an individual who holds two or more contradictory beliefs, ideas, or values at the same time, or is confronted by new information that conflicts with existing beliefs, ideas, or values." What I am talking about is the manifestation of that stress and discomfort on a society that is at odds with itself. A culture that finds more and more to disagree upon, embraces divisiveness, and often eschews (even condemns) the ideas of compromise and moderation.
Given human nature and history, how can this society move anywhere but toward violent conflict? How can police officers not gravitate toward more violent arrests; and criminals toward more exaggerated forms of resistance and obstruction? When we call for the destruction of the foreign regimes over humanitarian violations, and launch wars in the name of the same; how do we reconcile condemning the use of violence or destruction toward a perceived oppressor that will not listen to complaints about, let alone act upon, these rising tensions on our city streets?
We have invaded nations in defence of "democracy"… an ambiguous concept (that we don't even really embrace in full ourselves… but I digress); and yet we expect portions of our population to sit idly while members of their community are injured or killed without recourse.
Again, I'm not condoning or supporting the violence/riots/protests; what I'm suggesting is that we stop complaining about it, stop pointing fingers over it, stop generalizing, criticizing and stereotyping it, and get down to the dirty business of trying to prevent it going forward. As with all issues and addictions, this starts with admitting we have a problem.
We have a problem of us vs. them, a problem of hypocrisy, a problem of divisiveness… a problem of cultural cognitive dissonance. I often find myself a part of it and, most likely, you do as well. The question is, what are we going to do about it?
Full MLK quote on rioting:
"But it is not enough for me to stand before you tonight and condemn riots. It would be morally irresponsible for me to do that without, at the same time, condemning the contingent, intolerable conditions that exist in our society. These conditions are the things that cause individuals to feel that they have no other alternative than to engage in violent rebellions to get attention. And I must say tonight that a riot is the language of the unheard. And what is it America has failed to hear? It has failed to hear that the plight of the negro poor has worsened over the last twelve or fifteen years. It has failed to hear that the promises of freedom and justice have not been met. And it has failed to hear that large segments of white society are more concerned about tranquility and the status quo than about justice and humanity." – Martin Luther King, Jr.