Yeah, I said it. I'm not sick, annoyed, confused, or tired of "The Dress" and it's blue, orange, white, black, gold… purple, pink, green… whatever… hues. It's not a waste of time, nor an extravagant distraction of the first world order, and here's why. Because, to put it simply, it has made people think.
Today I saw this: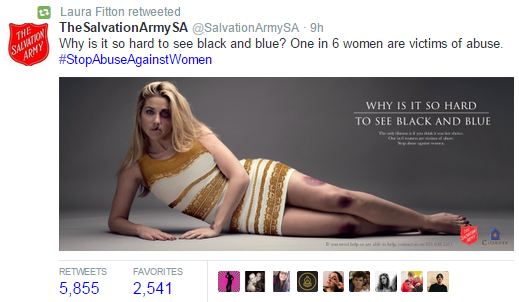 Sorry "time wasting" apologists… that is not a frivolous message; and it resonates with just about everyone with an internet connection and a pulse.
Not enough for you, how about science:
"These receptors, called melanopsin, independently gauge the amount of blue or yellow incoming light, and route this information to parts of the brain involved in emotions and the regulation of the circadian rhythm."
Still not your bag… okay how about some deeper (there-is-no-spoon'ish) introspective thinking:
All is conditioning. All is social construction, thought forms, carefully built identities, established "facts" that aren't really facts but merely mutually agreed-upon illusions we greedily suck down like wine.

…

Consciousness swallows all labels, spits them back out as origami ducks nowhere near in a row.
Which leads to this very interesting, contemporary and in some ways ironic discussion on the absence of moral facts (vs opinions) in our children's perceptions of today's society.
I could fill countless lines of blog space with links to fascinating and educational conversations about, or uses of, "the dress" (none of which, by the way, spend any time arguing about which color it is; those arguments seem to be being made by the same people who think facebook and twitter are all about pictures of burnt peanut butter and jelly sandwiches and other wayward "this is my lunch" postings).
So, with apologies to those (very specifically some members of my family) who find "The Dress" to be some sort of productivity succubus bent on destroying the last vestiges of "time well spent;" I'm glad this little debate went viral, I'm glad we are able to recognize – if only briefly – that we all see things through a different lens, and that one view is not necessarily the right or only perspective on things.
We can all learn a something from that little rainbow of a dress.. as long as we don't waste too much time arguing about it.