I've decided if I can't beat them, I'll join them. Since "everyone" is ramping up for Christmas already; despite the fact that it's still November and Thanksgiving is a full week away I figure I might as well try to do something constructive with the momentum. So here is my Christmas list (fully inclusive of all of my desires for this year).
1. Stop the bigotry, hate, derision, and fear. Break free of the onerous trappings of ignorance and embrace others for what they truly are… people, just like you and I, trying to move through and make the best of their lives.
That's it… that's all. Ready go!
This starts with stereotyping, and I'm not even thinking about "little black sambo," the drunken indian, or the nerdy socially awkward (but super smart) Asian (or any of the other myriad of examples where minorities are marginalized by the generalities we cast upon them). No, today I'l focused a little closer to home (at least for me)… this has popped up on my facebook timeline four or five times over the last 24 hours: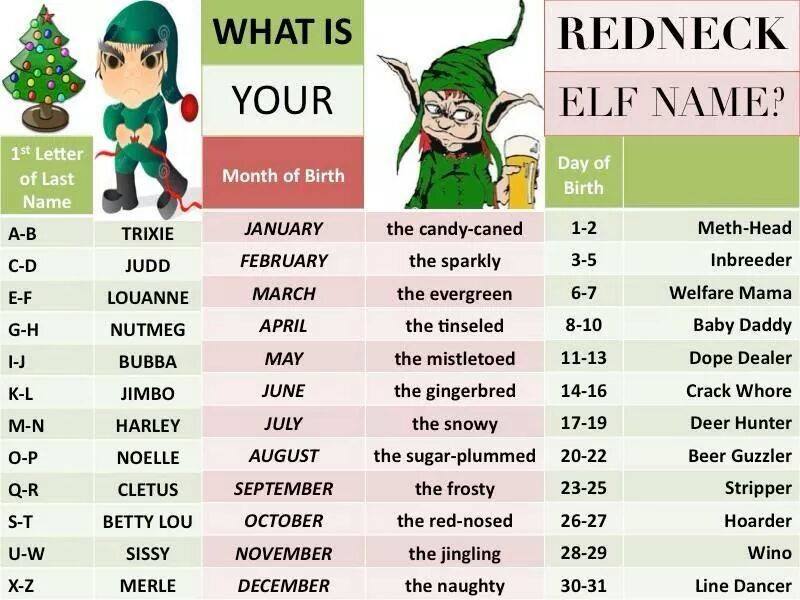 Now, based on the tried and (arguably not) true axiom that "it's okay if we say it to/about ourselves," I should be okay going through the machinations of figuring out my redneck elf name. It's all in good fun, and I'm not making fun of anyone but myself.
Except… I am. In reality this effects everyone. First and most directly, of course, it effects any and all "white" people who see it. Beyond that, though, it effects literally everyone… in so many ways. Once I get comfortable disparaging myself or those who are like me, the bar (of resistance) is lowered when it comes to grouping other people (and subsequently, potentially stereotyping them as well). I am tacitly approving of a society based on inclusion (and therefore also exclusion)… a culture of "us and them," rather than "we."
This type of thing is the toughest to get away from as well. Because it seems harmless, and self-effacing/deprecating, so why should anyone else be offended. The thing is, not offending someone (even though, perhaps it should) doesn't mean what you have said or done is right; or, more importantly, best.
We don't need to live in a divisive, unkind world. But if we are going to try to exist another way, it will take effort… including giving up some of our creature comforts like making fun of ourselves (and others) in a mean spirited way.
So there is it. my Christmas wish for 2014. And, since I am certainly guilty of doing this myself, I'll go ahead and double down and make it my New Years resolution while I'm at it.
PS: Not judging anyone who did this and/or had fun doing so. This sort of thing is absolutely a societal norm in our culture and noone should be belittled for taking part in it. I just have a vision for what I believe is a better world for my children and their children to grow up in… and it starts with treating each other (and ourselves) better than we currently do.