On June 17th, the Oakland A's are having a "pride night" promotion in conjunction with their baseball game. Honestly, other than perhaps paying tribute and tossing a little respect on the LGBT community, I'm not sure what the evening will consist of, and frankly I don't care. What I care about is that they are doing it (and that they have a "scout day" and a "superhero fireworks" day and a "Korean Heritage" day and a "faith and family" day and a "Jewish heritage" day… and, and, and, and. and…). But even all of that caring was not enough to get me to write about it (cause, let's be honest, sports team do this kind of thing all the time… it's good for business, it's good for the community… it's just kind of good).
What brings us to this little ditty, friends, is the pushback against "pride night" from the less than illustrious corners of the internet, and one woman's ridiculously perfect response to it. Enter Eireann Dolan, who's other claim to fame you'll have to look up yourself if you are curious… as far as I'm concerned she is admirable for who she is and what she does. Instead of ranting against the beliefs/morals/ethics/whatever of those protesting "pride night" (despite having two moms who she calls – and I'm quoting her here – "super gay") she instead showed empathy toward the position of those protesters and offered to purchase their season tickets for that game in order to donate them to folks who will truly appreciate the event but might otherwise be unable to attend.
Again, to be clear, what really resonates here is the high ground on which Miss Dolan has chosen to set up shop. No judgement, no vitriol, no negativity at all… just acceptance and cooperation. In an era where we use the word hero a lot, often without much of a vetting process for whom we bestow the designation, I'd like to take a moment today and ponder the "noble qualities" component of the definition of the word: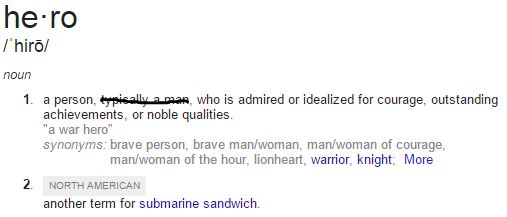 I think we overgeneralize the term hero these days, confining its usage to those demonstrating courage (i.e. servicemen and women) or superior abilities in a particular venue (i.e. professional athletes). While I'm not here to question those designations, I would like to perhaps engender a little more interest in the nobility piece. It is particularly easy these days to enter into (most often disrespectful) conflict with someone you disagree with. I actually found myself inclined to engage in a flame war on Miss Dolan's blog with a comment I felt was not only inappropriate, but (IMHO) wrong. However, fortunately for everyone involved, I had her example to follow and I took a different tack.
The idea of honorable – and by extension, exemplary – behavior as being heroic seems to have been depreciated over the years; but the example I want to (and in fact did) follow today, the example I would want my children to learn from and follow did not come from someone in uniform. It came from a caring, compassionate, and creative person who took the time to find a solution rather than pick a fight.
To me that makes Miss Dolan a hero (and by that, I do not mean a submarine sandwich).