When I was a young angst ridden youth (early 20′s to be specific) I sat down for a heart to heart intervention with one of my most beloved relatives (the names have been omitted to protect the innocent… in this case… the remarkably innocent). This was the first step in my grand plan for impacting/changing/saving the world (after all when you are ~23, nothing is more clear than that "fact" that the world is just one "you" away from being saved).
We were talking because I had heard the term "mighty white of you" for the one-too-many'ith time and something needed to be done about it. I was strong in my convictions, on point with my arguments, and relentless in my assault on his (presumably) hardened positions; pointing out that being white does not by default make you better, therefore "mighty white of you" does not mean what you think it means – in fact, it pretty much means the opposite of that… at least where the speaker is concerned.
I hammered my point home and went in for the kill… "does this make sense, what I'm saying… do you see why it is wrong… do you see why you need to stop!!!"
Only then did I notice the crestfallen look upon his face. Only then did I realize I had him at "have you thought about what you are implying, or would be implying to a person that was not white, if you said that around them" (which was my first sentence).
The simple fact is that he had never thought about it, it is how he had grown up. Further he was mortified about the message he was projecting, and I'm happy to report I have never heard those words from his mouth again. To him, it was a common phrase, genuinely no different than "nice work," "good job," or "that was thoughtful." It had no basis in bigotry or race, it was "just a phrase."
Which, of course, is the real and true evil of such phrases. They become part of the fabric of our society and bigotry is propagated by the unknowing. As such, generation after generation continues the subconscious (and in some cases conscious, deliberate, and malicious) process of stereotyping.
I don't have enough fingers on both of my hands to count the number of people I personally know who grew up listening to Brazil Nuts being referred to as "Nigger Toes." As part of Operation All-The-World-Needs-is-Soren (TM) I have spoken to every one of them about this at one point or another.
I have one nose more than is required to count the number of people who thought it was a racist remark, or harbor any dislike toward people of (any) color. All of them, when confronted, said that, again, it was "just a phrase" to those saying it… that they had no idea how it might be perceived (that may or may not be true in all cases… but that argument was made universally, and for the purposes of today's conversation that is more than good enough for me… on another day probably not… but today, yep).
Which brings me to this gem making its way around the internet (etc.).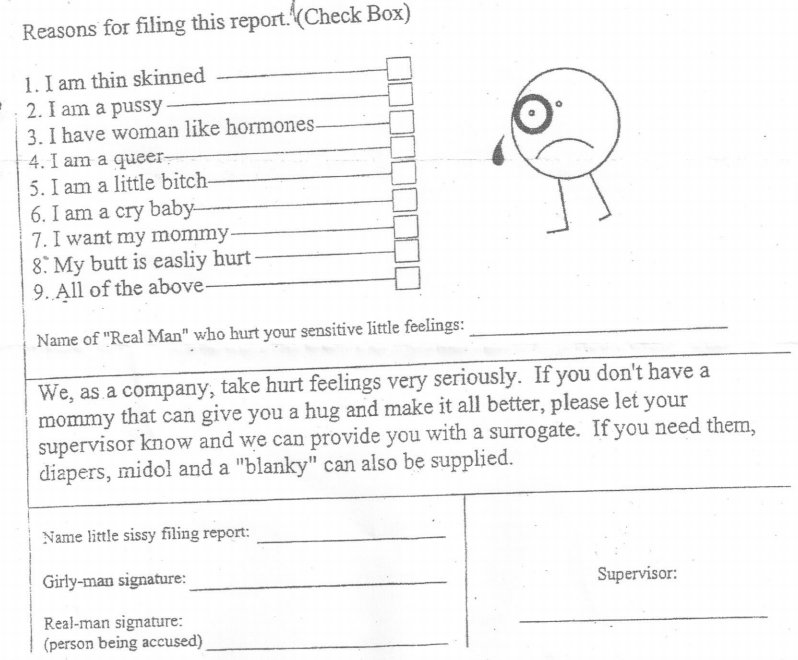 As I scan that "checklist", I realize that I know many people (including myself) that use (or have used) many of those phrases to refer to "weak" or "inferior" people.
Dear World (including myself):

Have you ever stopped to think how that phrase might make a woman (or homosexual) feel?

Best regards – your self-appointed savior (and guilty partner),
Soren
Options two through five on that list are easily and patently offensive, one and six are bad in their own right but perhaps passable, eight implies things that I'd rather not get into (cough Sandusky cough)… but… lets just say anyone who uses that phrase with understanding and intent has some serious issues. I'm also not so sure why turning to ones mother (or anyone else for that matter) for support is such a bad idea???
But I digress…
Items two through five are my focus right now. These phrases are part of our lexicon (along with "that is so gay" and "you are such a fag" and "awww… did you get some sand in you v@%$#&." This is how we talk to each other and convey messages of disapproval. In other words it is part of our cultural norm – with or without intent – to vilify and disrespect over half of our population, and most of us probably aren't even aware (at a consistently conscious level anyway) that we are doing it.
"Nigger Toes" doesn't fly as a term anymore (at least not in any of the circles I hang around in). If you were to say it, you would, at the very least, have to endure a mini-sermon from the newest/nearest defender of the universe. In other circles, you'd probably just get your butt kicked. "Mighty White," I feel safe in saying has met a similar fate, along with the majority of its (covertly?) bigoted brethren.
It is 2012, I'd like to think it was about time for the terms on the above checklist (and any others like them) to meet the same fate.
With all due respect to mammals, insects and fish (et. al.) … I think that'd be might human of us…
PS… for the record, I didn't mention it above because I was on another tilt…but… the implication that somehow some way "real-men" are superior to women – especially as differentiated by having successfully hurt someone else – is wrong in so many ways I don't have enough blog space (which is, of course, pretty close to infinite) to begin to cover it. Suffice it to say… its just stupid.
Note – "Occupy Us" is a (potential) series focusing on what I think is the first thing that needs to be changed in our country (the world?) in order to make any lasting substantive improvements… specifically – ourselves.