One of my favorite phrases is "I love it when I'm wrong." I don't actually love being a dolt, jerk, or simply being ignorant mind you. But I do love the learning opportunities being incorrect present, and last weekend's NCAA tournament provided just such a chance.
For years, I've watched cheerleaders cry after their teams lost tournament games and, for what now seems strange reasoning, thought they were all broken up about their team losing. Part of that was probably my ego or something; since I've always been the one on the court it's easy to look at things from that perspective. The media certainly portrays it as such… the broken hearted cheerleader, the devastated fan, etc.
But thanks to @roxiechalifoxie (Roxanne Chalifoux – ps super twitter handle!), I've been forced to re-focus my lens. I'm sure most (many?) of you know who she is by now, the Villanova piccoloist who "played on" through tears after the surprising defeat of her school in the second round of the NCAA tournament (they were a #1 Seed and lost to a #8).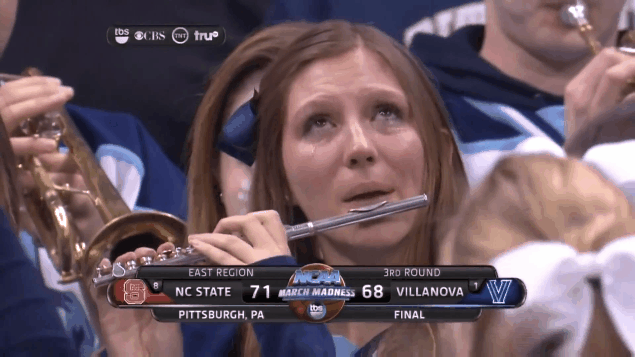 Where my eyes opened up (pun not intended) though was when I heard an interview with her after the fact. During that discussion, she revealed she was crying because, as a senior, she was going to take off her uniform for the last time after that game.
Boom! Goes the dynamite!
Again, I have no idea why it took me this long to realize/process/accept/whatever this… but there it was. Darrun Hilliard (a senior guard on the Villanova team) was crestfallen at the end of the game, and it was discussed how tough it was for him that his career was coming to an end. Roxanne Chalifoux was having the same experience.
Years of practice, sacrifice, and dedication to her craft – a foundational part of her existence – was coming to an end. She was not an extra in the Hilliard/Villanova story, she was a headliner in her own (and the Villanova pep band's) story. The same can be said for those countless cheerleaders. These events (which also happen to feature a basketball game) are the culmination of their college career and the long effort filled journey that brought them there.
I've never felt sorry for the Hilliards of the world. I have certainly felt compassion for what they were experiencing, but my overall feeling was more a celebratory one for what they had accomplished. "He has nothing to be ashamed of," "when he looks back on his career, he will have much to be proud of," "this game does not define him," and other quotes like this come quickly to mind. When I saw Miss Chalifoux crying what came out of my mouth was (and I quote) "awwww."
That was wrong, I was wrong, I get that now. Roxie Chalifoxie deserves more than "awww" for all of her effort. Those tears will not define her, she has nothing to be ashamed of (to her credit, she appears to have the "not ashamed" thing figured out), and she has much to be proud of. She is an accomplished piccoloist (who as of this publishing has played with The Roots on Jimmie Fallon) who appears to have a very bright future in front of her. One she built herself, the culmination of which we were lucky enough to experience with her.
I do love to be wrong, and in this case I really did learn (or at least recognize) and for that I'm grateful to the Villanova pep band and Roxanne Chalifoux… best finish of the 2015 NCAA tournament so far.